Written on
October 24, 2019
3 Impactful Portfolio Moves We Are Making
Many factors go into managing an investment portfolio.  Monitoring portfolio risk levels and investment income taxes are two key considerations. 
The OFM Wealth team is looking at the following impactful moves where needed and/or appropriate for a given client situation.  These tactics can add real value.
1. Monitor estimated mutual fund distributions to minimize tax impact where possible.
Many mutual funds make their year-end capital gain distributions in November / December.  We proactively monitor these distribution dates when investing cash in taxable accounts to avoid buying into a distribution and increasing taxable income.
2. Rebalance portfolios to manage risk levels.
We look at rebalancing portfolios back to the target blend throughout the year.  Why?  As the chart below illustrates, without periodic rebalancing, your portfolio would end up looking much different than planned.  Stocks tend to have higher rates of return (and volatility) than bonds over time.  Doing nothing could introduce a higher level of risk than desired.
Importance of Rebalancing (1998 – 2018)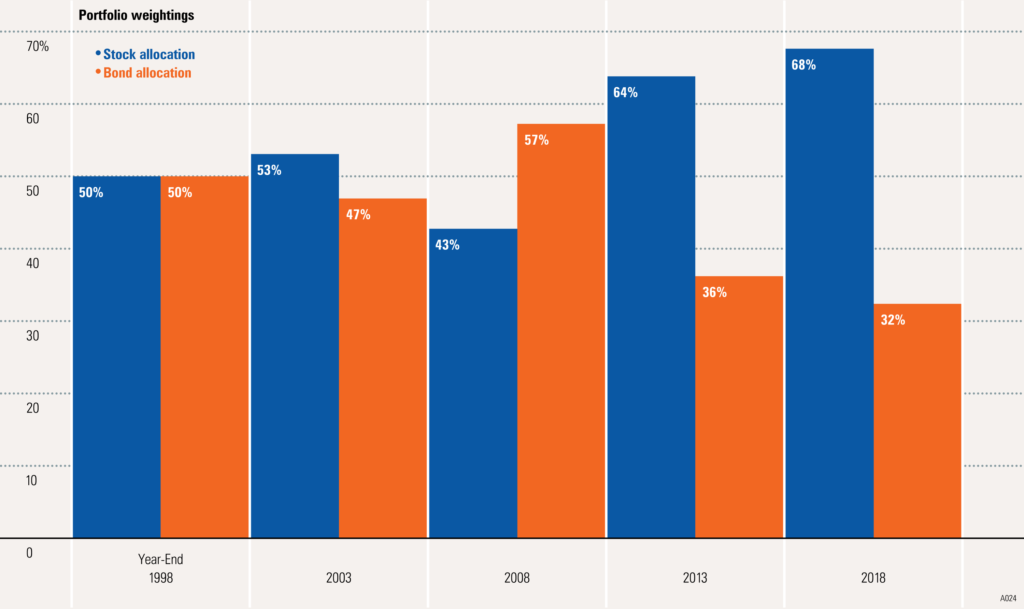 Source: Morningstar
3. Harvest capital losses in taxable accounts to capture tax savings.
Not many people enjoy market declines.  However, they can present opportunities to capture tax savings from capital losses.  A routine part of our portfolio review process includes looking for meaningful losses to harvest in taxable accounts.  Factors we consider before harvesting include the size of the loss, potential tax savings, transaction costs, etc.  Another important consideration is whether there is a suitable fund replacement to keep the portfolio invested and avoid a "wash sale".
Example – Capital loss of ($10,000)


Tax Savings

@ 15% Federal Long-Term

Capital Gains Tax Rate

$1,500

@ 23.8% Federal Long-Term

Capital Gains Tax Rate

$2,380
---
The Hourglass is an OFM Wealth Publication.  All information is believed to be from reliable sources, however, we make no representation as to its completeness or accuracy.  All economic and performance information is historical and not indicative of future results.  Any market indices mentioned are unmanaged and cannot be invested in directly.  Additional information, including management fees and expenses, is provided on our Form ADV Part 2.