It's Not Just One Stock Market
We often are asked "How's the market doing today?"  To most, that market is the Dow, only 30 stocks and not really a good representation of a broader domestic and/or global market.  Those broader markets are more meaningful because they more closely represent what our clients own.
OFM Wealth prefers to reference numerous markets, domestic and international.  Here is a brief definition of a few market indexes and year-to-date performance for each.  Note the differences!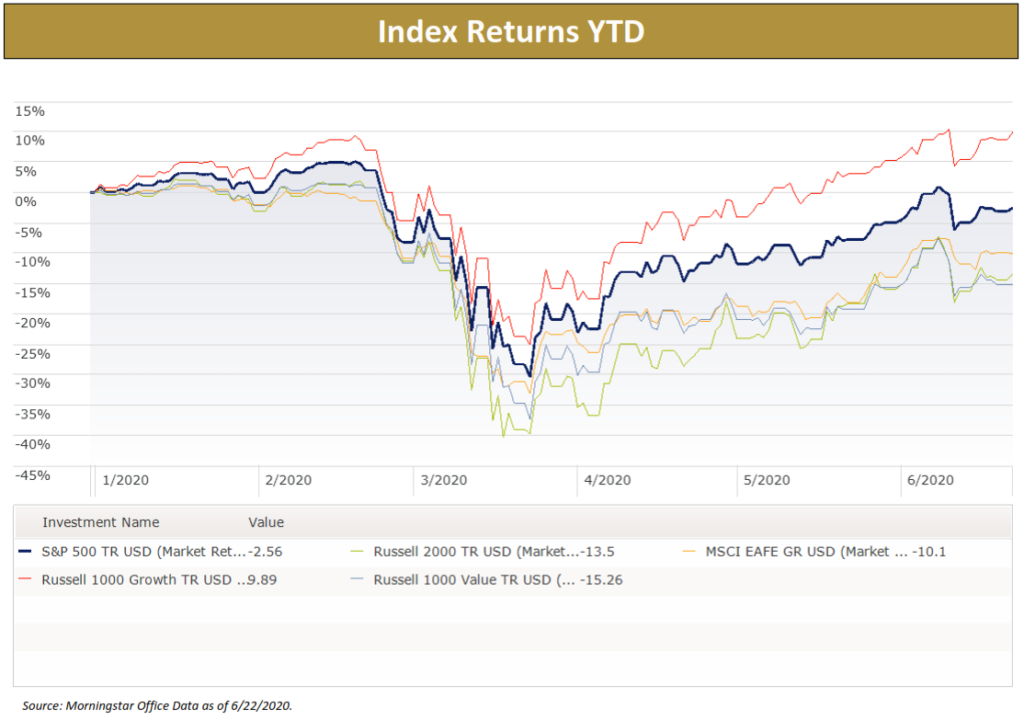 S&P 500:  An index of 500 large U.S. companies.  It is considered to be a good representation of the U.S. stock market.  Please be mindful, however, that it is market capitalization weighted.  That is, bigger companies impact the index value much more than smaller ones.  The top five holdings (Microsoft, Apple, Amazon, Alphabet (Google), Facebook) represent almost 20% of the index performance (Investopedia, June 4, 2020).
Russell 1000 Growth:  An index of 1,000 large domestic "growth" companies led by a large technology allocation (~40%) and a relatively small financial services representation (~12%).
Russell 1000 Value:  An index of 1,000 large domestic "value" companies.  Technology accounts for only ~7% while financial services (banks, insurance companies, etc.) are ~25% of the index.
Russell 2000:  The smallest 2,000 of the 3,000 companies in the Russell 3000.  A common benchmark index for smaller public companies.
EAFE:  An index of non-U.S. and Canadian companies representing Europe, Australasia, and the Far East.  It is a composite of 21 foreign indexes and a common benchmark.
So, what's the difference in the performance of these various indexes?  Let's take a look at year-to-date numbers in the graph above.
There is a similar pattern for all indexes.  The relative performances, however, are very different.  While the Russell 1000 Value is down -15.26%, the Russell 1000 Growth has advanced +9.89%!  That's a difference of over 25%!  Same time period, same country, different sectors.
While this example might seem extreme, it happened.  This is one of the reasons why we diversify.  Who knows, value may beat growth by year end.  Oh, the Dow was down -7.2% over the same period.
---
The Hourglass is an OFM Wealth Publication.  All information is believed to be from reliable sources, however, we make no representation as to its completeness or accuracy.  All economic and performance information is historical and not indicative of future results.  Any market indices mentioned are unmanaged and cannot be invested in directly.  Additional information, including management fees and expenses, is provided on our Form ADV Part 2.