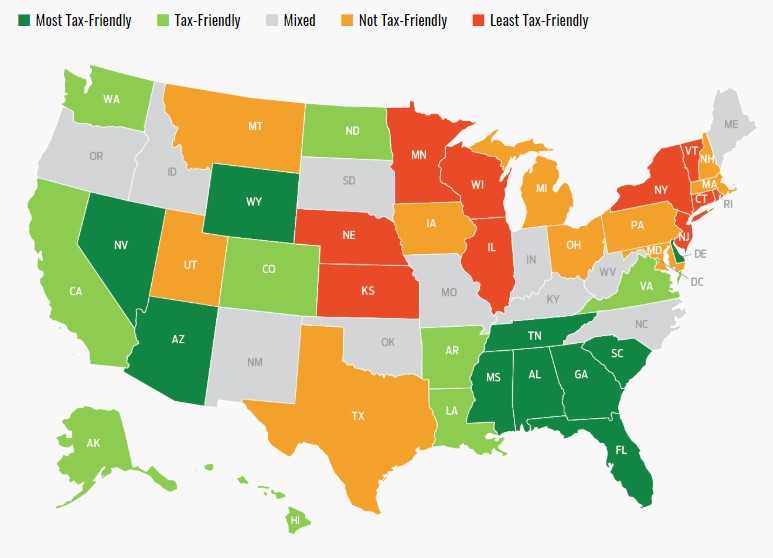 Written on
December 05, 2019
State Taxes Matter… But Don't Let the Tax Tail Wag the Retirement Dog!
We have worked with many individuals over the years to get financially ready for retirement.   Many factors need to be considered including anticipated income sources (Social Security, pension), available investment assets (401k, IRA, Roth IRA, taxable investments), and expected needs for living expenses.
Taxation of retirement income sources is also a key consideration.   Federal taxation by Uncle Sam is universal—but the taxation of retirement income by your state of residence varies.
Let's look at four examples:  Illinois, Indiana, Arizona, and Florida.  Here is a comparison of how each state currently taxes various sources of retirement income.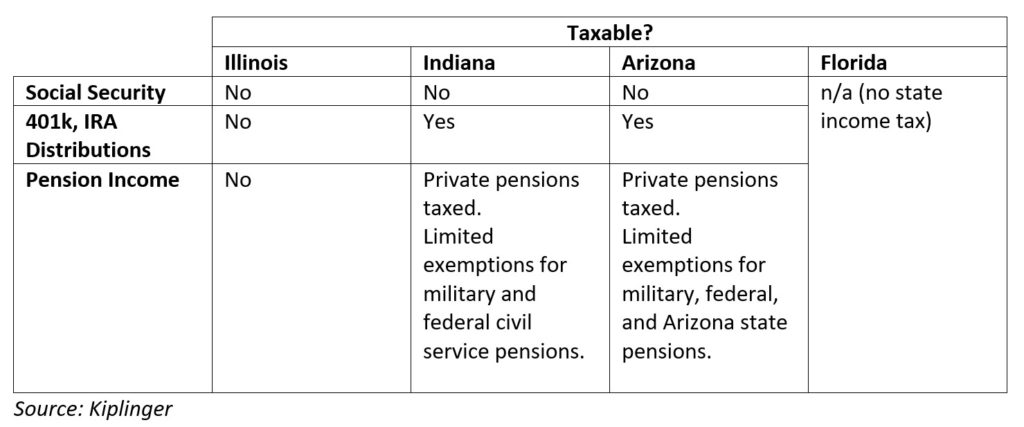 Everyone should retire to Florida, right?  But it is not that simple.  Taxes shouldn't be the only driver of where to live in retirement.  You need to think about the environment in which you want to live and what activities you want to participate in.  Proximity to family members could be key, e.g., caring for grandchildren now and, perhaps, your children helping care for you later in life.
If you want to explore how the various states tax retirement income, you can take look at Kiplinger's Tax Map and their opinion on "tax friendly" states.  Remember, taxes matter but they aren't everything.
The Hourglass is an OFM Wealth Publication.  All information is believed to be from reliable sources, however, we make no representation as to its completeness or accuracy.  All economic and performance information is historical and not indicative of future results.  Any market indices mentioned are unmanaged and cannot be invested in directly.  Additional information, including management fees and expenses, is provided on our Form ADV Part 2.