Written on
March 06, 2020
This is What a Correction Feels Like
We can talk forever about the probability of a down stock market.  But, when it happens, it's an emotional experience.  Fear and uncertainty go hand in hand with a correction (10% drop from a market high).  We're there.
Hopefully, you recall that together we prepared for this correction.  Your customized blend of bonds, stocks, and multi-asset strategies reflects the non-correlation of those assets.  In other words, while stocks are down, most bonds have gone up and multi-asset strategies have dipped slightly.  Also, your range of return probability studies (take a look at your most recent review-blue bar chart) illustrate both declines and recoveries.
This chart is helpful in that it puts declines in perspective.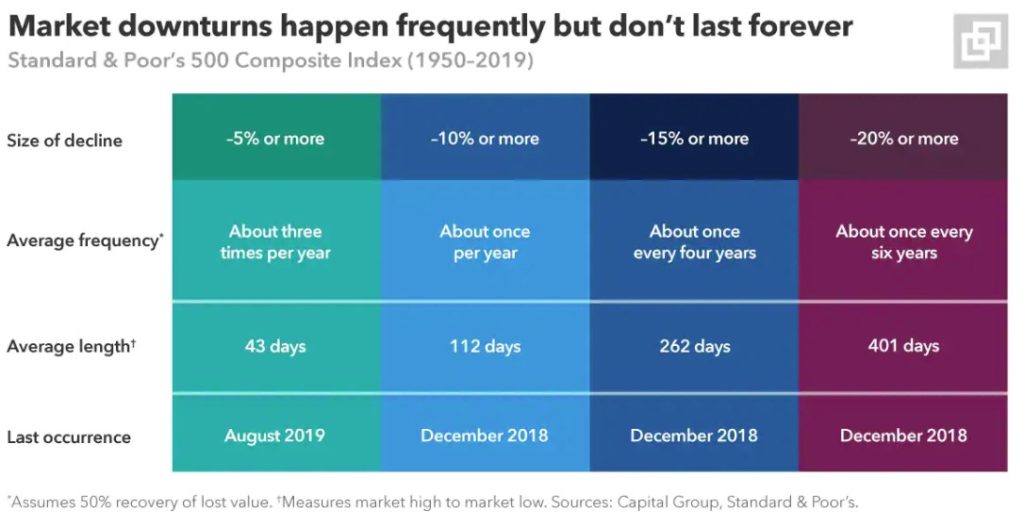 ---
The Hourglass is an OFM Wealth Publication.  All information is believed to be from reliable sources, however, we make no representation as to its completeness or accuracy.  All economic and performance information is historical and not indicative of future results.  Any market indices mentioned are unmanaged and cannot be invested in directly.  Additional information, including management fees and expenses, is provided on our Form ADV Part 2.