Written on
February 07, 2020
Viral News – Coronavirus Edition
The news today is replete with updates from China and other countries about the new coronavirus.  It is a serious health situation.  Public health officials, governments, and financial markets are confronting many unknowns about the virus' potential impact.
How do financial markets tend to respond to unknowns?  In the short run, they respond with volatile moves on a daily (or even intra-day) basis as new headlines and reports come out.  There will likely be short run, negative economic impacts as a result of this viral outbreak.
What about the long run?  The graph below illustrates the long-term performance of global equity markets over the last two decades and the timing of other health scares.  This time horizon included many major events (both good and bad): 9/11, several wars, two recessions and two recoveries, introduction of the iPhone, and significant technological advances—to name just a few.  The global economy and markets have been resilient through many difficult events.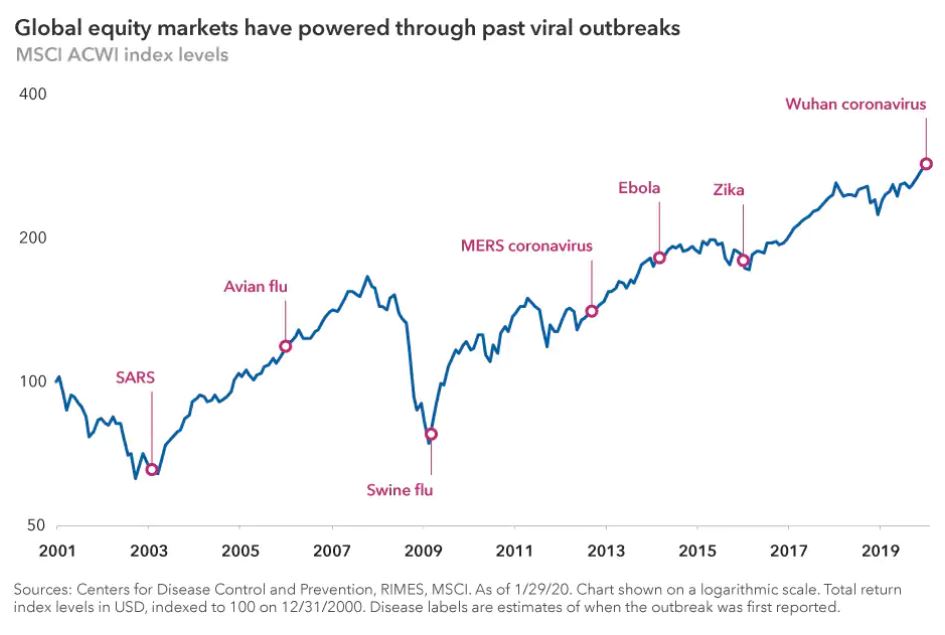 So, what should you do?  Keep your eye on your long-term investment plan and don't react to short-term market movements.  We believe trying to time market changes is a prescription for poor results.
---
Global equity markets have powered through past viral outbreaks source: Capital Group.
The Hourglass is an OFM Wealth Publication.  All information is believed to be from reliable sources, however, we make no representation as to its completeness or accuracy.  All economic and performance information is historical and not indicative of future results.  Any market indices mentioned are unmanaged and cannot be invested in directly.  Additional information, including management fees and expenses, is provided on our Form ADV Part 2.